This week the Competition Band will attend their first competition of the season and the football team will play against James Clemens.
James Clemens Game
This Friday night's game will be a standard procedure game with a call time of 6pm. We will not perform a pre-game and the National Anthem will be performed in the stands. After the football game is complete the Competition Band will perform their full program.
---
---
Tennessee Valley Marching Invitational
Marching Band Students
Up to 44 Marching Band students will be allowed to travel to the competition via Bus #6. A bus signup will be sent out via Remind during the week and the first 44 students will be accepted on a first come basis. These students will not need their uniforms or instruments but should wear their band shirt. Students should bring money for food in the concession stand OR eat before they arrive for call time.
Uniforms/Equipment
Students will take their uniforms on the school bus and students will dress once they arrive at Muscle Shoals High School. Changing rooms will be available for students or they may elect to get dressed on the bus upon arrival. Remember to be in full uniform at all times in public.
Performance/Post Performance
After the Competition Band performs, all students (except front ensemble) will go directly into the designated seating area for Sparkman High School located on the visitor side. Large instruments can be staged in designated areas until the end of the awards ceremonies. Front ensemble members will help take equipment back to the equipment truck before returning for the awards ceremonies.
Drum majors, guard representative and section leaders will participate in the awards ceremonies and should be prepared to enter the field after the UNA exhibition performance.
Logistics
Tennessee Valley Marching Invitational Website
---
Schedule For The Week
Monday
3:30pm – 4:45pm: Percussion Sectionals
Tuesday
3:45pm – 5:30pm: Competition Band Rehearsal
6:00pm: Booster Meeting
Wednesday
3:45pm – 6:00pm: Color Guard Rehearsal
Thursday
3:45pm – 4:10pm: Marching Band Rehearsal (Run-Through)
4:10pm – 6:00pm: Competition Band Rehearsal
Friday
9:15am: 10-12th grade students released for pep rally
9:45am: Pep Rally
6:00pm: Call Time for Game
7:00pm: Game (No Pre-Game Performance)
Post Game Performance by Competition Band
Saturday (Competition Band ONLY)
10:00am – 11:30am: Percussion Sectional
12:30pm – 2:30pm: Percussion Rehearsal
2:00pm: Color Guard Rehearsal (Staying on campus until we leave)
2:30pm – 3:00pm: Percussion Load Equipment Truck
4:00pm: Call Time (Winds load the equipment truck)
4:30pm: Marching Band call time (those who signed up to go)
5:00pm – 6:30pm: Travel to Muscle Shoals High School
7:40pm – 8:10pm: Warmup
8:20pm: Performance
9:20pm: Awards Ceremony
10:15pm – 11:45pm: Travel to SHS
Saturday Parking
On Saturday the ROTC will host a competition that will take up much of the Sparkman High School campus. This will require students and chaperones to alter where they will park their vehicles for the day. Please see the map below.
The designated parking areas is labeled in green and is located in the gravel parking lot behind the football field house and the parking lot next to the bus fill-up station. (Not on the grass field)
Bus Assignments (Saturday)
Bus 1: Drum Majors/Flutes/Clarinets
Bus 2: Saxophone/Trombone
Bus 3: Trumpet/Horn
Bus 4: Percussion
Bus 5: Tuba/Euphonium/Guard
Bus 6: Marching Band Students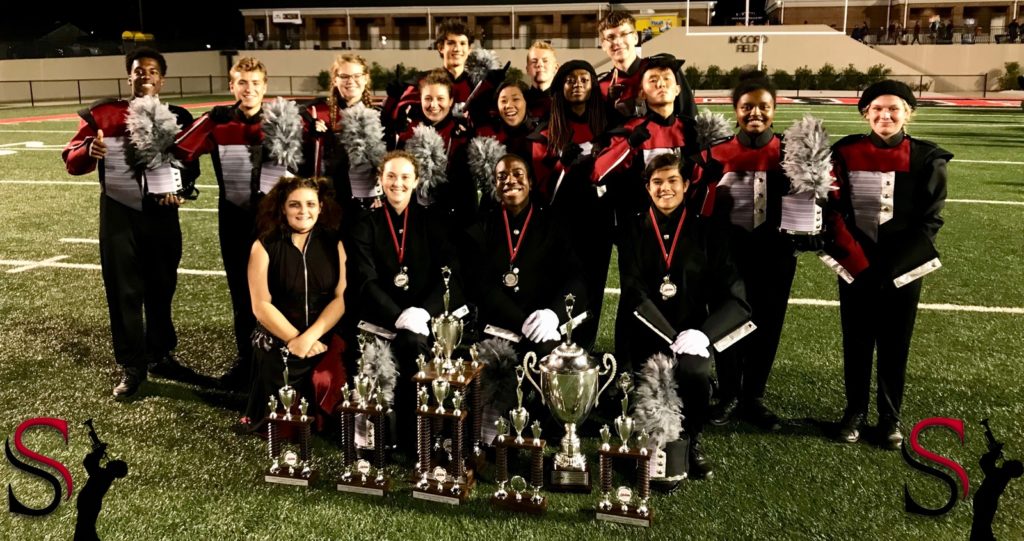 Total Page Visits: 234 - Today Page Visits: 1