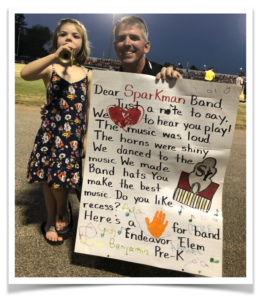 The band hosted Band Day last week and had 94 eighth grade students participating from Monrovia and Sparkman Middle Schools.  The performed for pre-game and had an outstanding performance.  Thanks to all the parents that helped feed and clean up after over 360 students!
This week the band will travel to Alabama A&M University to perform in the Louis Crews Stadium as the football team plays Huntsville High School.  Hope to see you there.
Note: We will not stop and eat on the way to the game and students will not have an opportunity to get food during the game.  Please make plans to see that each student eats before call time.
Schedule
Tuesday
 3:45-5:30pm: Competition Band Rehearsal
Wednesday
3:30-6pm:  Competition Guard Rehearsal
Thursday
3:30-4:30pm:  Marching Band Rehearsal
4:30-5:30pm:  Competition Band Rehearsal
Friday
All students will stage their equipment in the band room at the end of their class time.
3:45pm:  Guard Call Time in Special Needs Room
5:00pm:  Call time
5:30pm: Depart for Louis Crews Stadium
7:00pm: Game Time
9:30pm: ETEnd of game

Post Game Competition Band Performance

10:15pm: Estimated time of arrival at SHS
Huntsville City Schools Bag Restrictions
I received the following information concerning the bag restrictions that will be in place Friday night.
Please allow extra time to get through the security process at the gate. Individuals are encouraged not to bring any types of bags inside HCS facilities during athletic events. However, the following types of bags are permitted:

Bags that are clear plastic, vinyl or PVC and do not exceed 12″ x 6″ x 12″;

One-gallon clear plastic freezer bags (Ziploc bag or similar); and • Small clutch bags, with or without a handle or strap, that do not exceed 4.5″ x 6.5″ (approximately the size of a hand).

Exceptions will be made for medically necessary items after proper inspection at a designated gate. For complete details visit the HCS website at www.huntsvillecityschools.org/departments/athletics/athletic-event-bag-procedures.
Bus Assignments
Flutes/Drum Majors
Clarinets/Horns
Saxophones/Tubas
Trumpets
Trombones/Baritones
Percussion
Color Guard
Total Page Visits: 121 - Today Page Visits: 1