This article contains information about the 2024 SIP Season.
What is Sparkman Indoor Percussion?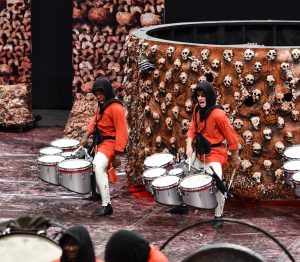 The Sparkman Indoor Percussion Ensemble, or SIP, is a nationally recognized competitive ensemble that develops and performs a show (similar to marching band) in gyms and arenas. SIP competes locally, regionally, and nationally. SIP has won two WGI Open Class World Championships (2016, 2019) and 8 SCGC (local circuit) A, Open, and World Class titles (2011, 2012, 2013, 2016, 2017, 2019, 2022, 2023). SIP has consistently been a national finalist in Scholastic A, Open, and World Classes.
Eligibility
To be eligible for a position in SIP 2024, students must:
Be in good financial standing with all current booster fees (all booster fees/previous SIP fees must be paid).
Be dependable and not have excessive absences.
Review and understand the rehearsal/performance schedule.
Perform audition materials at a proficient level (students who perform an incomplete audition will not receive a position).
*Not all students who audition will receive a position*
Auditions
Auditions are open to any current band student.
Any non-percussion student who receives a position in SIP is still eligible for any other ensemble within the SHS Band Program, including Wind Ensemble.
Any student who would like to participate as a visual ensemble performer should contact Mr. Albert ASAP.
Continue reading below to join the SIP 2024 Audition Google Classroom.
Open auditions for SIP 2024 will be by video submission in the SIP Audition Google Classroom due by Monday, November 13 by 11:59 pm.
Audition materials/requirements are now available in the SIP 2024 Audition Google Classroom.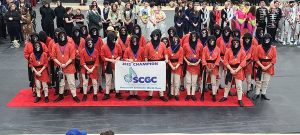 Positions Available
All positions are open to audition for.
These positions include: Snare, tenors, bass drums, marching cymbals, marimba, vibraphone, xylophone, bells/chimes/crotales, rack percussion, synthesizer (1 and 2), visual ensemble, student manager/prop operator.
Any non-percussion student MUST have a conference with Mr. Albert prior to auditioning for SIP.
What is the visual ensemble?
The visual ensemble will have a visual only role in the show. Dance experience is preferred, but not required.
What Does a Student Manager/Prop Operator Do?
Operates metronome during rehearsals.
Operates/maintains/assists with construction of props.
Assists Mr. Albert/Staff logistically during rehearsals and/or show days.
Required to be at all rehearsals unless otherwise notified by Mr. Albert.
What does the media specialist do?
Generate professional quality content (photos, videos, etc) for social media approved by Mr. Albert.
Attends most rehearsals and shows.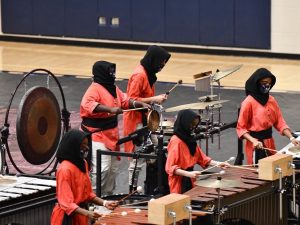 Rehearsals
If offered a contract for membership in SIP, students are expected/required to be at all rehearsals/performances.
The general rehearsal schedule can be found on the calendar section of the band website.
There will be 4 rehearsal camps: December 1-2, January 5-6, February 9-10, March 22-23.
We will be attending the WGI Atlanta Super Regional which is the last weekend of our Spring Break. Rehearsals during Spring Break are March 13-15, 5p-8p each day.
Parent Meetings
There will be a parent meeting for parents of any prospective SIP candidate on Thursday, October 26 from 6-7p in the S9GS Cafeteria (not SHS!)
There will be a parent meeting of all students who receive SIP 2024 participation contracts on Thursday, November 16 from 6-7 pm in the S9GS Cafeteria (not SHS!)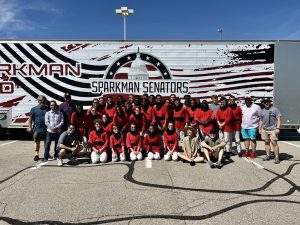 2024 Show Schedule
February 17, Bob Jones HS SCGC Competition
March 2, Thompson HS SCGC Competition
March 16-17 WGI Atlanta Super Regional (overnight)
April 7, SCGC Championships Location TBD (likely Bowling Green, KY)
April 17-21, WGI World Championships, Dayton, OH (overnight)
Parent Support
Parent support is a vital aspect of SIP. We are always looking for parents to help construct props, sew, paint, move equipment on pit crew, chaperone, etc. We encourage you to get involved, as this team effort can be very rewarding for both your child and yourself.
Fees
SIP operates on an annual budget of approximately $65,000. This budget is generated by membership fees, fundraising, and corporate/individual sponsorships attained by the membership and/or their parents. Like the overall band program, SIP does not receive any monetary support from the school or school system. Our annual budget includes the following:
Additional Instruction
Hotels
Transportation (equipment truck and bus)
Floor Tarp (custom digitally printed)
Uniforms (custom manufacturing)
Props
Musical Equipment
Show Music Licensing Fees (copyright clearance, etc.)
WGI Fees
SCGC Fees
Show Design (except music, which we get for no cost)
There will be fundraisers in which 100% profit goes towards your SIP member balance!
The 2024 SIP member fees will be $1250 per student.
If you anticipate fees being a hardship, please see Mr. Albert.
Fee Collection Schedule
TBD
Sign-Up for SIP 2024 Auditions
SIP 2024 Season Google Classroom Code – jie4cq5