On February 24, 2020 all Sparkman Bands will participate in a Pre-MPA open rehearsal in the James Clemens Auditorium. Traditionally the bands have participated in this event each year in order to give students an opportunity to perform their music on a stage prior to being evaluated.
The Sparkman Band would like to thank the James Clemens Band for once again graciously allowing us to use their facility to help our students prepare for assessment.
This year the band will NOT wear their uniforms for this performance and their time on the stage will be in the form of a rehearsal.
Students are responsible for their own transportation to this event and once their portion of the rehearsal is complete they are free to leave. Students should leave their cases in their cars if possible.
Schedule
5:00pm – 6:00pm: Concert Band – Students will warm up in the band room and go to the stage at 5:30pm for rehearsal.
5:30pm – 7:00pm: Symphonic Band – Students will warmup in the band room and go to the stage at 6:00pm.
6:30pm – 8:00pm: Wind Ensemble – Students will arrive at 6:30pm and warmup on stage at 7pm when Symphonic Band is finished on stage.
Map
CLICK HERE for driving directions to James Clemens from Sparkman High School.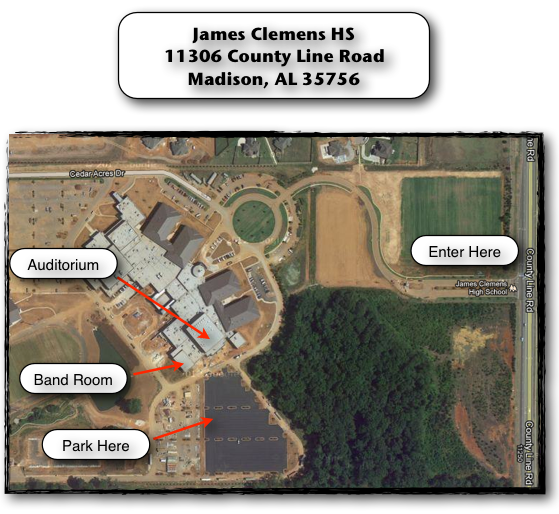 Total Page Visits: 1663 - Today Page Visits: 1