The Sparkman Bands will attend their annual Alabama State Music Performance Assessment next week. The event is open to the public and we would like to invite everyone to attend these performances. Students should be familiar with all schedules and procedures.
Procedures
All bands will follow our standard travel policies and procedures. All three bands will leave at the same time but ride buses according to their band. Students may check out after they are finished with their performance; however, a parent or legal guardian must be present to sign-out. No advance documentation is needed for this event.
All students will wear their tux/dress attire for this event. Please ensure student attire is complete.
Schedule

1:30pm: Call Time (meet in the HSBR to get dressed)
2:00pm: Depart from Sparkman
2:30pm: Arrive at James Clemens HS (Wind Ensemble and Symphonic Band will go to the auditorium and watch bands perform until their warmup time.)
3:00pm: Concert Band Warmup
3:30pm: Concert Band Performance (After their performance Concert Band students will report to the auditorium to watch bands perform. Students may be checked out ONLY by parent or legal guardian.)
4:15pm: Symphonic Band Prepare for Warmups
4:40pm: Symphonic Band Warmup
5:00pm: Wind Ensemble Prepare for Warmups
5:10pm: Symphonic Band Performance/Wind Ensemble Warmup
5:40pm: Wind Ensemble Performance/Symphonic Band Sight Reading
6:00pm: Wind Ensemble Sight Reading
6:05pm: When Symphonic Band is finished with sight reading all Concert Band and Symphonic Band students will load the bus and travel to Sparkman.
6:30pm: Wind Ensemble load the bus and travel home
7:00pm: Estimated time all bands should be at Sparkman HS.
Transportation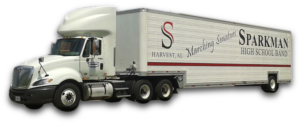 School buses will be used to travel to James Clemens. Due to bus availability the students will be dropped off at James Clemens and the buses will travel back to Sparkman to complete the daily bus routes. Buses will arrive back at James Clemens after their routes are complete.
Students should leave all book bags, purses and other personal belongings at school as they will not have a secure area to store these items.
CLICK HERE for driving directions to James Clemens HS from Sparkman HS.

Concert Band
Bus 1: Woodwinds (31)
Bus 2: Brass/Percussion (45)
Symphonic Band
Bus 3: Woodwinds (33)
Bus 4: Trumpet/Horn (28)
Bus 5: Low Brass/Percussion (35)
Wind Ensemble
Bus 6: Woodwinds (23)
Bus 7: Brass/Percussion (34)
Equipment
The guard trailer will be used for large instrument storage and transportation. An area at James Clemens will be designated for instrument case storage and will be announced on site.
Total Page Visits: 2561 - Today Page Visits: 2