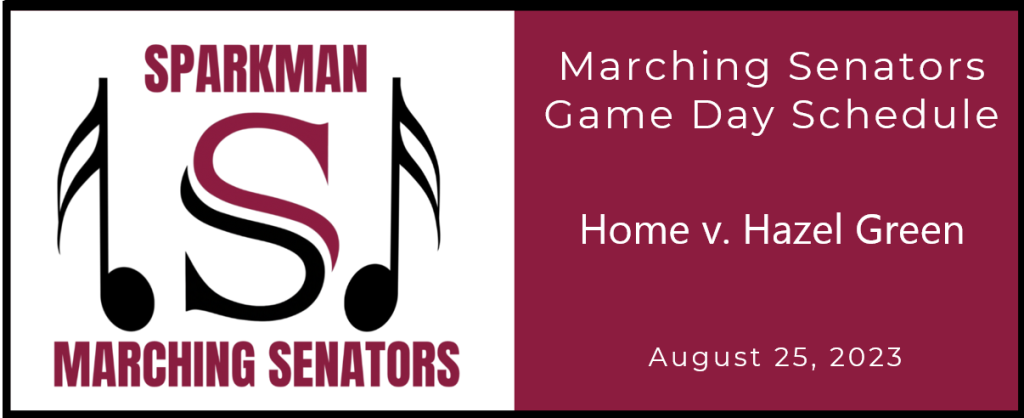 Dress Code UPDATE: Grey 2023 Band Show Shirt, Black or Khaki Shorts, Band Appropriate Tennis Shoes
ALL TIMES CENTRAL
Friday, August 25, 2023
STADIUM INFORMATION– HOME
ITEMS TO REMEMBER:
Grey 2023 Show Shirt
Black or Khaki Shorts
Tennis Shoes
Large, refillable water jug
Instrument / Accessories
Flags / Rifles / Sabres
After school, students may stay at the band room and eat in the hall while waiting for call time. The concession stand will be open at 4:00 PM for band students to buy food.
6:30   PM     Winds/Guard In SHS Band Room- Percussion in S9 Band Room
                     Adjusted Uniform
Instruments Out
Ready to Go
TBA PM March into the Stadium
TBA PM Pregame
8:00 PM Kick Off- Go Senators!
11:00 PM Approximate Game End
POST GAME PERFORMANCE HAS BEEN CANCELLED
ALL TIMES AND LOCATIONS ARE SUBJECT TO CHANGE
AT LEAST THREE BEFORE ME RULE – Ask any questions in the following order before asking a director
Ask another band member
Ask your section leader
Ask a drum major
Ask a band parent
LAST RESORT- Ask a band director