The marching proficiency test is an evaluation each student must pass to participate in the Competition Band.  This evaluation will determine the student's ability to march and play on the level required by the Competition Band and only pertains to "wind players".  Evaluations will be given twice during each school year for students to qualify for the following marching season.
---
The evaluation will consist of two parts (Playing and Marching) and the adjudicator will determine a "pass" or "fail" status for each.  A student must pass both portions of this evaluation in order to be eligible for Competition Band.
Playing Test
Each student must perform 5 major scales of their choice with their associated arpeggios.  The student will perform the scale with an eighth note feel as defined by the ABA Middle School All-State Audition.  Students must compelete the scale with no wrong notes or the scale will not count.  Students will not be allowed to attempt the scale multiple times.
When the student successfully performs 5 scales the adjudicator will notify the student they have passed and the student has successfully completed the evaluation.  The student must pass these scales on the instrument they wish to march.
Physical Requirements
Each student should demonstrate the ability to overcome the physical demands of marching a 10 minute program at a very fast pace and high physical demands.  This will be done by running 1 mile in 12 minutes or less and can be done by setting a steady pace with a simple jog.
Director Review
Each student will be evaluated by the three directors according to their work ethic, attitude and attendance throughout each season.  Approval must be accepted by the majority of the staff.  Any student that does not pass the Director Review may elect to participate in the Marching Band unless the student has discipline issues inappropriate for band.
Marching Test
Each student must successfully perform a "Box 8" exercise at 160 bpm.  Students must hit the corners of each mark with reasonable accuracy.  Students will play a long tone during each series of 8 counts starting the note on count 1 and releasing the note on count 8.
The student will start the exercise in playing position.
The evaluator will start the metronome.
After 8 clicks of the metronome the student will:
Forward March 8 counts
Left Slide 8 counts
Backwards March 8 counts
Right Slide 8 counts
Forward March 8 counts
"Touch and go" backwards" 8 counts
"Touch and Go" left oblique 8 counts
"Touch and Go" back oblique 8 counts
Halt
The evaluator may ask to see the exercise more than once.  The results will be posted later and the evaluator will NOT give student results after the exercise is complete.
Rubric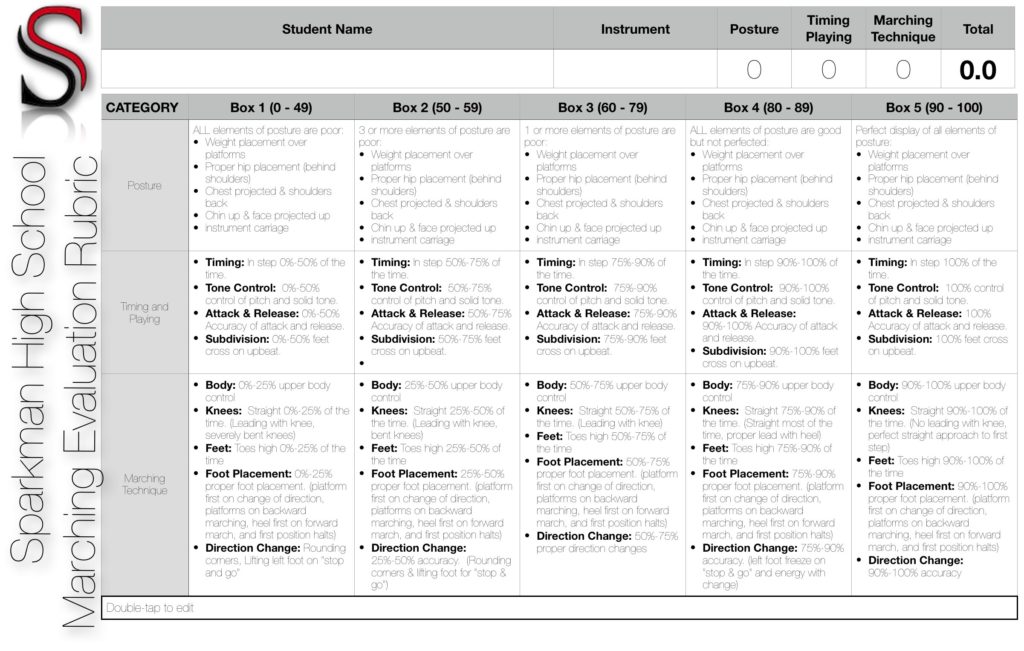 Posted in: Band FAQ