---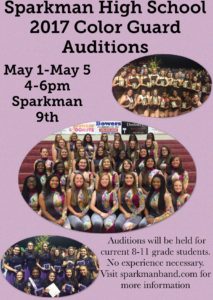 The Sparkman Band will host color guard clinics and audition for the 2017-2018 school year on May 1 through May 5, 2017 in the Sparkman 9th Grade School Cafeteria.
Eligibility
The audition is open to any current 8-11 grade student that will attending Sparkman next year.  There are no prerequisite to the audition but students must be physically able to perform dance moves and handle various equipment.  All students will be taught skills needed during the week of auditions.
Schedule
Clinics will take place Monday (May 1) through Friday in the Sparkman 9th Grade School Cafeteria from 4 p.m. to 6:00 p.m. each day.  The final evaluation will take place on Friday and results will be posted on the Sparkman Band Website.
What to Bring?
All equipment and accessories will be provided for students.  Students should wear form fitting clothing and tennis shoes.