The Sparkman High School Band has announced their 2015 Spring Trip to New Orleans and Cozumel, Mexico.  Details about this trip was discussed during a very important meeting on September 2, 2014 at 6:00 p.m. in the 9th Grade Cafeteria.  Deadline for $125.00 trip deposit is September 30, 2014. ($50.00 of the deposit is non-refundable)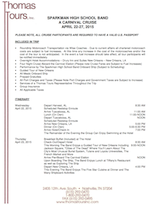 Click on the picture of the brochure for a full pdf version. ->
We had a great crowd at the meeting last Tuesday night concerning this year's spring trip.  Below is a series of questions I have received concerning the trip.
Question/Answers
Who is eligible to go on this trip?  All 9-12 students that will be enrolled in band, percussion or guard during the spring semester and are paid up in full on their booster fees are eligible to attend this trip.
Do I have to have a passport?  We are asking everyone to carry a passport. In case of an emergency, a passport will allow you back to the United States by means other than the ship.  Thomas Tours does not recommend purchasing a passport card because you can not use it for air travel.  Please note the estimated 4-6 weeks processing time.
What does the cost cover?  As stated in the trip brochure, the cost will cover all aspects of the cruise including prepaid gratuities, port charges, taxes, group insurance, hotel accommodations in New Orleans, and a guided tour of New Orleans.  The cost of any on shore excursions are not included and will not be booked through Thomas Tours.
How much money should I send with my student on this trip?  We will only have 4 fast food type meals required on this trip.  All other costs will be included.  Any other expenses will be according to souvenirs purchased on the boat, in Cozumel or in New Orleans.  The beach will have various rental activities such as jet ski rental etc…
What about sea sickness?  Dramamine is recommended "just in case".  A nurse will collect all medications prior to the trip and this will be an additional consideration for most people.  Most people never have an issue with sea sickness on a cruise.
Where do I send my payments?  All payments should be sent to Thomas Tours using the payment slip found in the Trip Brochure.
Can I go on an excursion in Cozumel?  Yes, as long as your parents go with you.  These excursions can be booked through Carnival separate from Thomas Tours.
Where do we go in Cozumel if we are not taking an excersion with my family?  The band will travel as a group to a local beach where we will spend most of the day.  We will have approximately 2 hours of shopping time just before re-boarding the ship that afternoon.